ST. PETERSBURG / CLEARWATER is worth crossing the bridge for—world-class arts + culture, award-winning beaches, diverse wildlife.
Like stepping into a postcard, St. Petersburg/Clearwater is a gem on Florida's west coast. Nestled on a peninsula separating Tampa Bay and the Gulf of Mexico, St. Pete/Clearwater has an impressive array of attractions and activities in a compact area.
TOUR  
Made of glass, but resembling more like molten confectionary, Dale Chihuly's fantastical art has a permanent home at the Morean Arts Center. This shrine to Chihuly was purpose-built, blending art and architecture to best showcase large-scale pieces such as the anemone-like Ruby Red Icicle Chandelier and the Persians. moreanartscenter.org Nearby, along St. Pete's waterfront is the unmistakable, avant-garde building that could only be home to The Dali Museum. Here you'll find the largest collection of the surrealist's work outside of Spain. Not to miss: The Persistence of Memory (aka: the melting clocks) and The Hallucinogenic Toreador.  thedali.org
TASTE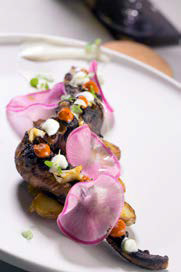 Named one of the top seafood restaurants in town (and there are a lot to choose from) by USA Today, Sea Salt should not be missed. Chef Fabrizio Aielli has 130 different salts in his kitchen to masterfully season his innovative dishes. seasaltstpete.com For more casual fare, Locale Market offers a beautifully curated, European-style grocery experience designed by celebrity chefs Michael Mina and Don Pintabona. Gourmet take-away meals are available, as are epicurean grocery items for you to cook at home. localegourmetmarket.com For a visually spectacular dining experience, RumFish Grill at the Guy Harvey Outpost features a 33,500 gallon aquarium that spans an entire wall of the dining room, filled with local marine plants and animals. Cutting edge seafood is the second main attraction, where diners can choose from elevated comfort food like lobster mac'n'cheese and Gulf shrimp jambalaya to more exotic offerings like Lionfish. rumfishgrill.com
DO
Just across the harbour from stunning Clearwater Beach is The Clearwater Marine Aquarium, a marine rescue centre that's home to star of "Dolphin Tale" and "Dolphin Tale 2", Winter, who swims with a prosthetic tail. seewinter.com For wildlife in the wild, head to Fort de Soto Park and slip into the water aboard a kayak. Spend a couple of tranquil hours gliding amongst the mangroves and you may be lucky enough to see stingrays, dolphins and even manatees. pinellascounty.org/park/05_ft_desoto.htm And if you're looking for a game head over to The Shuffleboard Club, which has been enjoying a massive renaissance in recent years. On Fridays this private club opens to the public for an evening of free shuffling fun. stpeteshuffle.com - Catherine Tse
Find more info on St. Pete/Clearwater at visitstpeteclearwater.com.
For more on Florida:  visitflorida.com.

TAMPA
Tampa knows how to entertain. Whether you're here to observe its adorable, gentle manatees or the not-so-gentle Tampa Bay Buccaneers this city offers fun across the spectrum. For cigar aficionados, check out historic Ybor City. yborcityonline.com If you've brought the family, Busch Gardens, an African-themed adventure park is not to be missed. buschgardens.com
For more to see/do in Tampa, go to visittampabay.com.
Photos courtesy of Visit St. Pete Clearwater and Leroy Bridges (VSPC)