PORTLAND, Oregon, has serious cool factor—and great food. Instead of sitting on its hipster laurels, this PNW city keeps pushing palates…eat it up!
Portland is still the new frontier. Here, amidst the tattooed, bearded, thick-framed-glasses-wearing crowd—it's as if this Pacific Northwest city, tucked under Mt. Hood, is a homing beacon for hipsters—there's the warm embrace of creative types with some robust entrepreneurial spirit. "Keep Portland weird," states a legendary mural (and adopted city slogan of sorts). Another long-standing emblematic sign: the neon white stag. And this odd factor is just plain charming—with some rather tasty side dishes.

Because this oft-satirized hipster-haven is the happening food-and-drink hub of the PNW—think farm-to-fork, branch-to-bottle, leaf-to-cup. From ramen bowls at Noraneko (where you can also have a soju chuhai, the Japanese version of an after-work cocktail) to doughnuts (skip the line at Voodoo for a Dirty Wu at Pip's), Portland puts on an unrivalled culinary show of which the following is just a small sample…
EAST BY WEST The Southeast Asian street-food cuisine of Pok Pok blew open a burgeoning Asian-fare scene in Portland (and now has recent Brooklyn and LA outposts beyond its PDX birthplace). There's also Han Oak (named for traditional Korean "hanok" homes), Langbaan (a culinary speakeasy that means "back of the house" in Thai), Hat Yai (Langbaan's counter-service off-shoot) and the first North American locations of Marukin and Afuri, Tokyo ramen houses with a cult following.
SAMPLE: Korean bibimbap ("mixed rice") and steamed buns at Kim Jong Smokehouse, a collaboration between a few of Portland's hottest chefs housed in the new Pine Street Market food hall.
DRINK ME Like the Alice in Wonderland directive, Portland encourages serious sipping. Besides the well-known coffee scene—this is the home of Stumptown Roasters, after all (also a moniker for the city itself)—there's also a tea movement. This is where Tazo tea started, the founder of which went on to quietly create Smith Teamaker—the best in America, some say. There's also, of course, kombucha (try Brew Dr.) and distilled tea spirits (at Thomas and Sons Distillery), made with varieties like pine-smoked Lapsang Souchong, that simply don't fit neatly into any existing category—much like PDX itself. SAMPLE: The new fernet-style digestif by Thomas and Sons Distillery, redolent with local ingredients of Douglas Fir, Willamette Hops and birch bark.
POD CAST Portland was an early adopter of food trucks or carts. And with more than 600 citywide, from Viking Soul Food (lefse and gravlax) to newer kid-on-the-block Chicken and Guns (oak-fired Latin chicken), the options are limitless. Which is why this Portland particularity makes perfect sense: food-cart pods. Clustered in empty lots, the congregations of carts become al fresco dining and community spaces, PDX style. Cartlandia is a "super pod" of some 30 carts (featuring fare from 15 countries) and a full-on bar (with 18 beers and ciders on tap). Cartopia has outdoor movie screenings and is a late-night stop, while Tidbit, the newest pod, goes beyond the food and drink with pretty lights, picnic tables, a fire pit and Airstream boutique.
SAMPLE: A Smaaken waffle sandwich (made with local, organic, heirloom varietal wheat, of course)—try the bacon-forward Van Gogh or the veggie Popeye—at the Tidbit pod.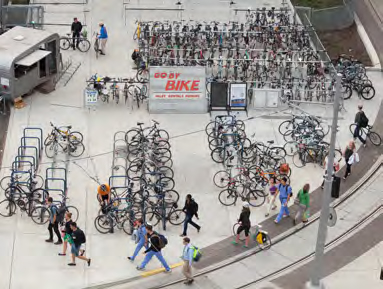 And, now, after all that feasting, "go by bike," as they say in Portlandia. — Barb Sligl
For more on all the weird and wonderful things to do and sample in Portland, go to travelportland.com.