BIG IN BEIJING Explore China's colossal capital of culture + cool
There's a touch of sweetness to the fried scorpion I'm crunching on while strolling Wangfujing Snack Street in Beijing's Dongcheng district.
It's one of the delicacies hawked in this ravenous megalopolis of 21.5 million that's brimming with thousands more when I visit during Chinese New Year, or Spring Festival. But crowds converge here year round, many of them domestic tourists. I find fewer people and less-daunting items like tanghulu, sweet-tart candied hawthorns threaded on bamboo skewers in the lacework of lively hutongs like Dazhalan Xijie near Tian'anmen Square. Heady aromas emanate from these traditional alleyways that are steadily disappearing as this behemoth capital trains its focus on the future. Case in point: the new Beijing Daxing International Airport (designed by Zaha Hadid Architects and ADP Ingénierie) will become the world's largest when it opens in September. Dubbed the "starfish" by Chinese media for its sci-fi shape, it will welcome 72 million people annually, well in advance of Beijing hosting the 2022 Winter Olympic Games. Earlier this year, China's expanded 144-hour visa-free transit policy came into effect, making it even easier for international travellers to explore this cultural nexus that's home to seven of the country's 53 UNESCO World Heritage sites.
Local life, however, still plays out among the centuries-old cypresses and lush gardens surrounding the ancient architecture at the Temple of Heaven, or Tian Tan, first constructed in 1420. I wander by seniors bent over decks of cards and dominos and stop to watch a group of men play a spirited ring-tossing game before visiting the 273-hectare complex's temples and sacrificial altars where emperors prayed for rain and a good harvest during the Ming and Qing dynasties. There's a regal vibe to the Imperial Vault of Heaven, an ornate three-tiered circular structure ringed by an Echo Wall. Its hermetically sealed bricks send the sound of even a whisper to the other end of the round structure. A different kind of grandeur greets me a day later when I disembark the train at Bādálǐng for my first foray on the Great Wall.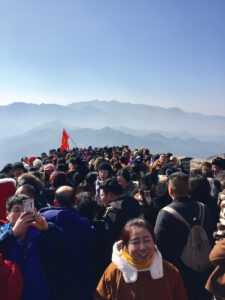 Located just 70 km north of the city core, in 1957 this section of the Wall was the first opened to tourists and it remains the busiest and best preserved. I spend hours in awe walking this vast stone snake coiling across the scrubby winter landscape. Although it's slow-going being wedged shoulder to shoulder with thousands who have also made the trek to explore the Ming dynasty-era towers and crenellated battlements there's something about being in the crush that feels comforting and quintessentially Beijing. — Janet Gyenes
[GO] More info: travelchina.gov.cn/en